JUMA Group, Top High-voltage Electrical Technology Expert
Pubdate:2012-11-06 15:49 Source:cippe Click: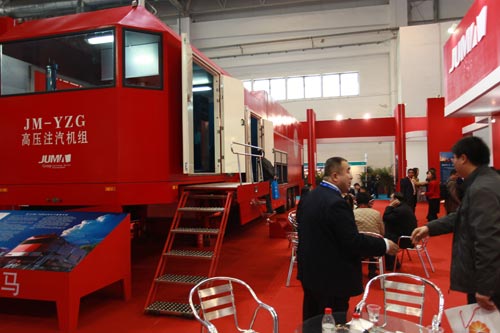 Shandong JUMA Petroleum Equipment Manufacturing Group has made sure to attend the 13th China International Petroleum & Petrochemical Technology and Equipment Exhibition (cippe2013) to exhibit its competitive product as high-voltage column steam unit with a 400sqm exhibition space, according to the organizing committee of cippe. (Booth: E2025)

Founded in 1996, JUMA Corporation has developed to Shandong JUMA Group since 2004.

JUMA Group, with Shandong JUMA Petroleum Equipment Manufacturing Group as the holding company, includes subsidiaries as Shandong JUMA Engineering Company, Shandong JUMA Technology Company and Shandong JUMA Equipment Company.

The company becomes a large-scale group integrating petroleum equipment manufacturing, oil equipment trading, oil and gas engineering and technology engineering, having 50 million yuan's registered capital and annual output value over one hundred million yuan.

JUMA devotes itself to make high quality, low cost products and services, which is one of the market operation strategies of the Group.

JUMA Group sets head sales office in Beijing, six sales regions as Huadong (Shengli) region, Huabei (Beijing) region, Dongbei (Daqing) region, Xinjiang (Urumchi) region, Xibei (Xi'an) region and Xinan (Chengdu) region and sixteen divisions in oil industry market.

Perfect sales network in industry market leads to the company's businesses extending all over oil fields of CNPC and Sinopec, reaching the top market share compared to peers.