Tiehu Petro. to Display Blowout Preventers at cippe2013
Pubdate:2012-12-14 10:39 Source:cippe Click: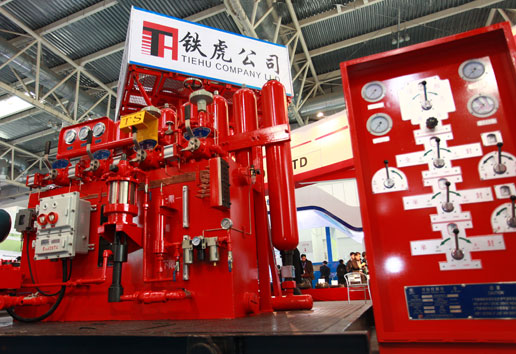 Tiehu Petroleum Machinery Co., Ltd. confirms the participation in the 13th China International Petroleum & Petrochemical Technology and Equipment Exhibition (cippe2013) to exhibit various blowout preventers and devices with an exhibition area of 325sqm, according to the organizing committee of cippe. (Booth: E2100)

Tiehu Petro., located in Yanling industry park of Renqiu City, Hebei Province, is an integrated petroleum machinery manufacturing enterprise specializing in the production of oil drilling equipments and accessories and has been one of plants for supporting well control equipments organized by China National Petroleum Corporation.

The mainly products of the company include all kinds of pressure level less than 105Mpa and drift diameter less than Ф 540mm of ram and annular blowout preventers, various specifications of hydraulic control system ground blowout preventers, all kinds of pressure level less than 70Mpa and drift diameter less than Ф 103mm of well controls and choke manifolds, pressure level less than 70Mpa of well head equipments and casing heads, hydraulic/pneumatic/manual bearing and up-running preventing slips with multi-function and grades, rotary blowout preventer with independent intellectual property rights and non-killing pressure-taking operation devices suitable for different regions, environments and geological conditions.

Tiehu Co. has rights to export its product to international market. The products of the company have been sold not only in each oilfield of domestic but also worldwide countries such as Southeast Asia, Central Asia, Russia and South America. Moreover, Tiehu can promptly satisfy the user's service need through setting service network in domestic each oilfield.