ZPMC, Strong Momentum of Offshore Equipments Manufacturer
Pubdate:2012-12-28 15:02 Source:cippe Click: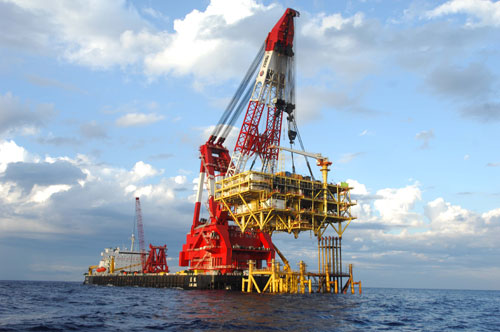 Shanghai Zhenhua Heavy Industry Co., Ltd. (ZPMC) is a famous heavy-duty equipment manufacturer which large-size port container cranes and ore/coal bulk material handling machinery are superb, sustainable and reliable, entering 80 countries and regions all over the world and occupying 80% world market share.
ZPMC has strong marine equipment research and development manufacturing capacity which has achieved great success in offshore field.
The company supplies all kinds of self-elevating, semi-submersible and stationary offshore oil and gas production platforms which can be delivered to designated area to be installation and debugging as well as providing many kinds of marine engineering ships including floating crane, pipe-laying vessel, dredgers, gantry crane, offshore drilling platforms and so on.
ZPMC is also an international crane manufacturer, manufacturing all kinds of full rotary or fixed arm mounted floating cranes with maximum lifting load reaching 12,000 tons, self-propelled or dumb, dynamic positioning or anchor position.
The products of ZPMC have been widely sold to the United States, Singapore, Malaysia, Spain and etc.