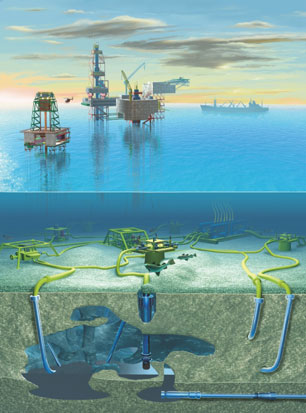 Sandvik will participate in the 13th China International Petroleum & Petrochemical Technology and Equipment Exhibition (cippe2013) with advanced stainless steel to show its new applications to visitors, according to the organizing committee of cippe. (Booth: W1516)
On the exhibition, a series of high corrosion resistance of high alloy stainless steel products of Sandvik will be present to the visitors, fully showing the comprehensive ability of Sandvik in more demanding environments of land, water and underground application and in well repairing technology.
Among the exhibits, Sandvik SAF 3207™ advanced dual-phase seamless tube has the characteristics of thin tube wall, higher yield strength and taking more deep water pressure intensity as the diameter of umbilical pipe decreases, effectively reducing the installation cost of deep water application.
In the application of drilling riser, Sandvik SAF 2507™ high strength hydraulic pipeline could lighten 50% weight at most compared to standard steel. Moreover, seamless tube is available for a long line length pipe, supporting to cut down or completely remove the welding requirements.
Generally, downhole production casing and tubing string are used for sulfur well conditions. Sandvik specially develops a series of double-phase high alloy material against the extreme corrosive environment. Meanwhile, Sandvik SAF 2507™ casing and tubing can also adapt to the weak acidic environment well.
In hydrogen sulfide, carbon dioxide, chloride and other strongly acidic conditions, Sanicro? 28 is the best choice for you while Sanicro™ 29 is suitable for higher concentration of chloride situation.
In addition, Sandvik will display control line using in well repairing technology and chemical injection line at cippe2013.
The company offers complete and unified global solutions of control line and chemical injection line with standard steel or customized steel. Sandvik ensures timely delivery of the site with its professional services centres and rich inventory and can meet the diversity requirements of customers, no matter customizing the length of pipeline, packaging, washing or filling a group of pipeline.
"We cooperate with oil and gas industry customers closely to develop products fitting for highly corrosive environments and the most demanding of oil and gas exploration and application in the world", said by John Tokaruk, the Asia Pacific region oil and gas department sales manager of Sandvik.
"Relying on rich professional knowledge and continuous development, our products can satisfy the oil and gas industry installation operation requirements as well as helpful for reducing long-term operation cost."
During cippe2013, Sandvik will exhibit varieties of products such as seamless tube, welding products and services, control pipe, chemical injection line, downhole casing, tubing string and umbilical pipe, revealing strong materials technology of Sandvik.