cippe establishes special zone for shale gas display
Pubdate:2013-10-29 14:51 Source:Zhenwei Group Click: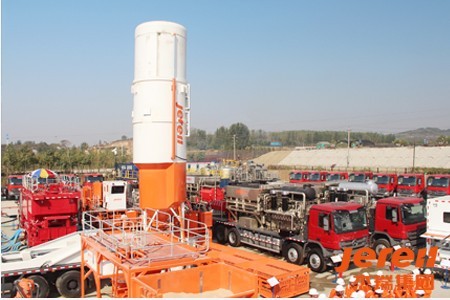 The unconventional natural gas develops to a global issue and is changing the world's energy grid. For China's energy developing, it is an emergency to promote China's shale gas exploitation, increase the supply of natural gas and alleviate the conflict between demand and supply for natural gas.
China is rich in shale gas resources with about 15,000 billion to 30,000 billion cubic meters. "Till 2015, the production of shale gas will be basically in large-scale and the production will be 6.5 billion cubic meter," according to "12th Five-year Plan for Shale Gas" issued in March 2013. This year, the Central Government allocates special funds to support the development of shale gas exploitation.
Based upon the market demand, cippe establishes an exhibition zone for shale gas equipment and technology to help enterprises to better understand the latest technology and equipment in the world and give a hand to the development of export market.
Up to now, Baker Hughes, CNPC Greatwall Drilling Company, Sinopec Petroleum Machinery Company, Yantai Jereh, Shanghai Shenkai, Dezhou United Petroleum Machinery, Suzhou Douson, Jerrywon and Dong Fang Xian Ke Petroleum Machinery have all applied for the exhibition, sources from the organizing committee.
Based on 13-year-development, cippe ranks the largest petroleum exhibition in the world and it is also an annual congress for world's petroleum equipment. cippe now is regarded as the best platform for global petroleum enterprises to display and communicate in Chinese market. To answer for the market environment and demand of exhibitors and visitors, cippe establishes a special zone (cisge) for shale gas display with a purpose of offering better display environment and more convenient channel for visitors to get information.