Tianyi Petroleum Equipment Company to highlight cippe2014
Pubdate:2013-11-04 09:52 Source:Zhenwei Group Click: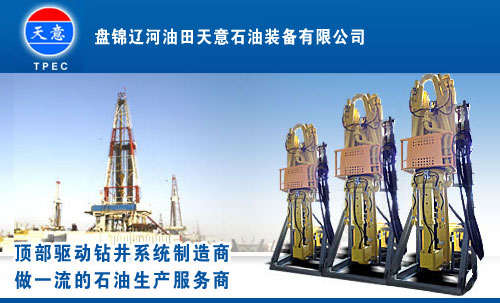 Panjin Liaohe Oilfield Tianyi Petroleum Equipment Company Ltd. (TPEC) is confirmed to take part in the 14th China International Petroleum & Petrochemical Equipment and Technology Exhibition (cippe2014) which will be held on March 19-21, 2014, according to the organizing committee of cippe2014.
Funded in 2002, TPEC affiliated with CNPC, is a top drive drilling system manufacture providing various types of top drive drilling system including hydraulic type and variable frequency models, as well as drilling system accessories such as iron roughneck, casing running system, and rotary steerable drilling system. Products of TPEC are very popular among domestic and international clients as many products have been exported to Russia, Niger, Gabon, Kazakhstan, Indonesia, Burma, Venezuela and many other countries around the world.
Visitors may go to Booth W1706 (a 100-sqm booth) for further information.