Lanzhou LS confirmed to take part in cippe2014
Pubdate:2013-11-12 11:48 Source:Zhenwei Group Click: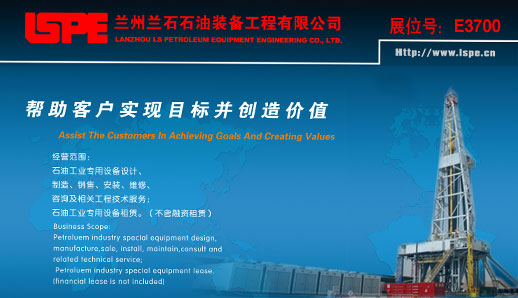 Lanzhou LS Petroleum Equipment Engineering Co., Ltd (LSPE for short) will take part in the 14th China International Petroleum & Petrochemical Equipment and Technology Exhibition (cippe2014) with a 375-sqm booth (Booth E3700), according to the exhibition organizing committee.
LSPE, a wholly-owned subsidiary of Lanzhou Lanshi Group Company Limited, has a stable foundation for petroleum machinery manufacturing history and technology. Jointly invested by Lanshi Group and NOV, LSPE is founded in December 2000 and renamed to LSPE in April 2013.
The main products of LSPE are: land drilling rig, offshore drilling modules, drilling pump and some other solution plan services.