Botenear to highlight cippe2014
Pubdate:2013-11-27 11:47 Source:Zhenwei Group Click: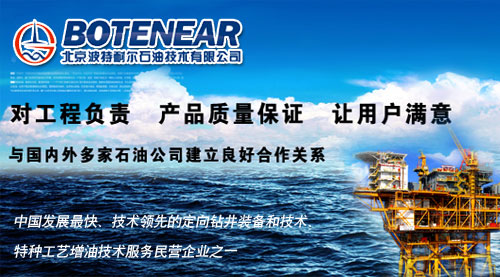 Beijing Botenear Petroleum Technology Co. Ltd.(hereafter refers to as "Botenear") is going to take part in the 14th China International Petroleum & Petrochemical Equipment and Technology Exhibition which will be kicked off on March 19-21, 2014.
Botenear is an international group specialized in petroleum equipment maintenance, manufacturing and drilling engineering service, which is one of the largest and leading private professional companies in advanced directional drilling technology.
The company is qualified as a member of the engineering and technical service team of CNPC, having its head office in Beijing, and branches in Dubai and Kazakhstan, etc.
Botenear has been a member of IADC (International Association of Drilling Contractors). I towns several kinds of tools and instruments like coiled tubing MWD/LWD, Gyro etc. The company is dedicated to advanced high-temperature, high pressure resistance and anti-vibration MWD/EMWD/LWD and Gyro research and development and providing high-quality relevant technical services; it has establish firm cooperative relationship with clients in directional drilling, coiled tubing and gyro industries.
As planned, Botenear will display their products at Booth W2320 (180 square meters) and visitors can go for further information.