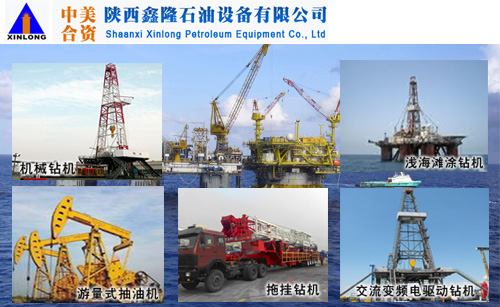 Shaanxi Xinlong Petroleum Equipment Co., Ltd will take part in the 14th China International Petroleum & Petrochemical Equipment and Technology Exhibition (cippe2014) which will be held on March 19-21 in Beijing, according to the organizing committee.
According to the arrangement, Shaanxi Xinlong Petroleum Equipment Co., Ltd will have a stand at E1365 with a total space of 350 square meters.
Shaanxi Xinlong Petroleum Equipment Co., Ltd is a Sino-US joint venture founded by Blue Ridge China, a private equity firm headquartered in New York, and Shaanxi Xinlong Petroleum Equipment Co., Ltd, which has strong capability and years of experience in oil and natural gas equipment design and manufacturing. Blue Ridge Capital is one of the most successful investment funds with extensive long-term equity investments to excellent enterprises.
The company mainly produces: shallow offshore drilling platform and its corollary drilling rigs; large-scale complete sets of land oil drilling rigs with drilling depth ranging from 3000m-9000m; Class I and II pressure vessels; oil and water separators; dry cement agitation units; cluster well shifting units; oil and water supplying equipments for drilling rigs; various mobile house; mud fluid cleaning system; various types of workover rigs and various types of pumping units.
National patents were got for self-independently developed cluster well shift unit, energy saving wheeled pumping unit, high voltage AC VFD oil rig, 4000-meter trailer electric drilling rig, skid hermetic bit cuttings drying process unit and grease dirt cleaning equipment. These products are used in China's major oil fields including Daqing oil field, Changqing oil field, Xinjiang oil field, Shengli oil field, Liaohe oil field, Dagang oil field, Qinghai oil field and so on. They are also exported by batch to North America, Europe, Africa, Middle East and South Asia, including USA, Norway, Singapore, Kazakhstan, Mexico, Uzbekistan, Sudan etc.
The company got the Certificate of Material Supplier from CNPC, got favorable comment from CNPC and was recommended by China Petroleum Material & Equipment Corporation website to all oil fields of China. The company was authorized to be the Credit Enterprise by the Shaanxi Credit Enterprise Committee. The company has got many certificates such as high tech enterprise, API, DNV WPQ from Norway classification society, ISO9001 and pressure vessel manufacturing license. The company also undertakes non-standard design and manufacturing of metal structure for coal, geological, metallurgy, electrical power, and chemical industries.