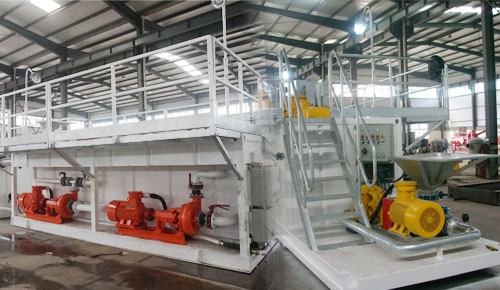 According to the latest news from organizing committee cippe, Brightway Energy Machinery, a promising potential rising star in oil & gas industry - a professional solid control system manufacture (hereinafter referred to as: Brightway) will be on his debut with 90㎡ of luxury exhibition at CIPPE, booth no. : W2660.
Xi'an Brightway Energy Machinery Equipment Co., Ltd Is a professional and modernized solids control equipment manufacturing enterprise, collecting research and development, production and sales, services and logistics distribution in a body. Brightway is the only professional manufacturer who adopts full hot galvanizing technology processing solid control field currently.
At present, Brightway mainly produces complete set of mud purification recovery system and drilling fluid solids control equipment such as drilling fluid shale shaker, vacuum degasser, mud cleaner, desander, desilter, drilling fluid centrifuge, mud agitator, sand pump, mud-gas separator, electronic flare ignition device, jet mud mixer device, mixture hopper, vertical cutting dryer, mud tank, water tank, diesel tank.
Brighway products are widely used in each major industry such as oil and gas drilling for petroleum exploration, drilling mud recycling for trenchless engineering, drilling mud purifying for coalbed methane development, geothermal engineering, waste mud treatment for environmental protection, river dredging engineering, shale drilling engineering, mining, metallurgy, coal etc.
Now, Brightway products are widely used in each big oil fields in China and the world's largest oil producing country and energy rich country, such as CNOOC, PetroChina, Sinopec, Yan Chang oil field in China, and Australia, New Zealand, Venezuela, Indonesia, India, Middle East and other countries. The products have got the user's consistent high praise.