As a result of extensive discussions with Oil and Gas majors, new notable coating and composite materials have been formulated. These materials address the needs associated with urgent repairs as well as long-term corrosion mitigation.
This new technology will be showcased for the first time exclusively at the 16th China International Petroleum & Petrochemical Technology and Equipment Exhibition:
● Protective linings designed for high temperature immersion and erosion protection
● Composite repairs, including pressurized pipe wraps and bespoke cold bonding technology
● Resealable flange encapsulation system for lasting corrosion protection
Belzona will be represented in the UK Pavilion, Stand W1002M by Oil and Gas Project Manager, Allen Ren and a Technical Services Engineer, Dennis Deng.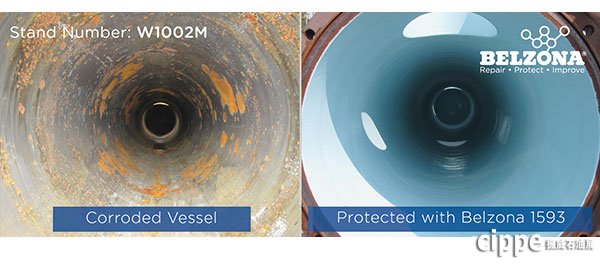 Mr Ren has commented on the new lining technologies: "Belzona has always been at the forefront of innovation as demonstrated in the 1990s when ceramic filled epoxy was established as the industry standard for erosion protection. Belzona is now advancing further by developing high molecular weight polymer composites, providing significantly better erosion resistance whilst offering the possibility to be spray applied." Mr. Ren continued: "…In addition, next generation modified epoxy novolac systems have been developed that offer ease of application and improved performance. Reducing asset owners' capital expenditure whilst minimising their operational expenditure is our primary concern and the company's strategy is fully in line to achieve it."
This year's event, which is the biggest Oil and Gas exhibition and conference in China, is set to attract a record number of people. Belzona welcomes the visitors to attend UK Pavilion W1002M to discuss its coating and composite solutions for greenfield and brownfield applications.
Established in 1952, Belzona has pioneered innovative polymer technology that has revolutionised Oil and Gas construction, fabrication and maintenance procedures. Belzona first entered the China Oil and Gas market 20 years ago and has since become universally recognised as a reliable, trusted solution among engineering design houses and asset owners. Successful partnership with several engineering companies also contributed to winning and delivering major overseas projects.
Belzona provides 24 hour technical and sales support in China, 7 days a week, both through its experienced personnel and network of Distributors located across the country.