The 18th China International Petroleum & Petrochemical Technology and Equipment Exhibition (cippe) will be held at New China International Exhibition Center, Beijing from 27-29 March 2018. cippe is a regular gathering in petroleum and petrochemical industry and the largest petroleum exhibition in the world.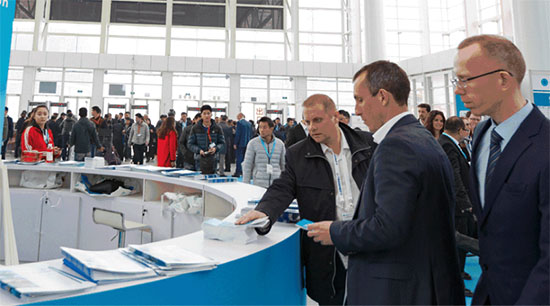 Sign up today as a visitor to avoid unnecessary waiting time on-site for a fast free entry to cippe 2018 and getting newest info from cippe Committee.

Reasons to visit cippe:

1. 1,800 Exhibitors;

2. 90,000sqm Exhibiting Spaces;

3. 18 International Pavilions: USA, Germany, UK, France, Canada, Denmark, Italy, Russia,
Norway, South Korea, etc;

4. Professional visitors from 65 Countries and Regions reaching 110,000 person-times;
5. Sectors: Petroleum & Petrochemical, offshore engineering, natural gas, pipeline, shale gas, Explosion-proof and Instrumentation, Intelligent Oilfield and Communication Technology, Oilfield and Land Protection, Scientific Research Institutes and Technological Achievements Area

6. Well-known enterprises:
Overseas: Schlumberger, Baker Hughes, Cameron, NOV, Caterpillar, Rosneft, Gazprom, Naftogaz, Cummins, MTU, 3M, Honeywell, Tyco, Siemens, Philips ,Schneider, Hempel and etc;
Domestic: CNPC, Sinopec, CNOOC, CSSC, CSIC, CIMC, RAFFLES, RG Petro-machinery (Group) Co., Ltd., HONGHUA, JEREH, KERUI, SANY, NHI, HBP, Tidfore, JERRYWON, ANTON,
JUNMA, SHENKAI, Rongsheng, Tianjin LILIN and etc;

7. Purchasing groups: CNPC, SINOPEC, CNOOC, Overseas Project Department of CNODC,
China Petrolum Pipeline Bureau, Sinotrans-CSC, COSCO, Fuel Oils Research of the General Logistics Department of PLA, Fuel oils Research Institute of the Air Force, Shell,
Saudi Aramco, Total, Gazprom, Rosneft, ConocoPhillips Statoil, Petrobras, etc.

8. Concurrent Activities: International Petroleum & Nature Gas Summit, 2018 International Petroleum and Petrochemical Technology Conference, Embassy (Oil & Gas) Promotion Seminar, cippe 2018 Business Matchmaking Meeting, Explosion Protected Electrical certification and Technology management seminar, New product Release, Technical seminars, etc.

cippe welcomes your participation during March 27-29, 2018, communicating and searching cooperation with global professionals, exhibitors and buyers.