The 11th Shanghai International Petrochemical Technology and Equipment Exhibition (cippe2019 Shanghai), the leading petrochemical event in Asia, will take place at Shanghai New International Expo Center on 28-30 August 2019.
520 exhibitors and 40,000 visitors from 52 countries participated in the exhibition and the exhibiting space reached 38,000 Sqm last edition.
cippe2019 Shanghai designed four main zones for your business: Petrochemical Equipment, Explosion-Proof, Automatic Instruments and Safety Protection.
Petrochemical Equipment Zone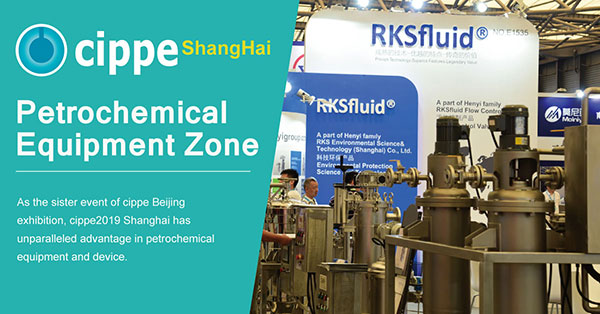 Category: Petrochemical system & device; Petroleum refining technology and equipment; DCS, PLC control system; Fluid machinery and process; Storage, transportation, Pressure vessel; Laboratory equipment; Equipment maintenance, repair and management; Environmental protection and Energy-saving equipment; Cleaning and Anti-corrosion equipment; Pipeline construction;
As the sister event of cippe Beijing exhibition, cippe2019 Shanghai has unparalleled advantage in petrochemical equipment and device. RKSfluid, HUBEI XINGYEGANG STEEL, CRRC ZHUZHOU ELECTRIC, Henkel, Aojoa Ecology and Environment, KORVAL, Boke Vacuum Technology, LEKE Energy-Saving, Molniya centrifugal machine, Zeyi Vacuum Equipment, Apollo Machinery and FUJIAN SNOWMAN and so on exhibited at last edition.
Explosion-Proof Zone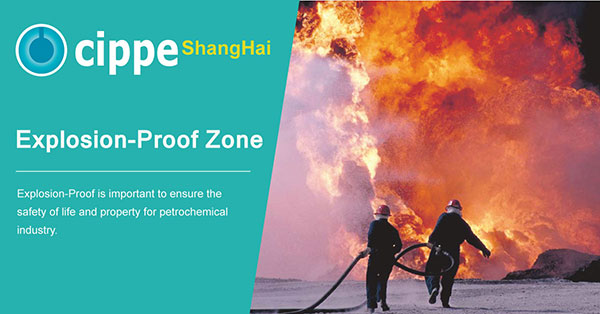 Category: Liquid level controller; Explosion-proof signal, sign and indicator; Electromagnetic valve; Gas detection instrument; Fireproof material coating; Dust protective clothing fabrics, masks, flame retardant and anti-static products; Explosion-proof lighting; Explosion-proof hydraulic parts; Gas purification system; Emergency treatment and escape shelter;
Explosion-Proof is important to ensure the safety of life and property for petrochemical industry. TÜV Rheinland Group, SemsoTed, HaiLu Gated Technology, Mingchuang Optoelectronic Technology, Locosc Ningbo Precision Technology, UNIVERSKY TECHNOLOGIES and SEVA Lighting etc., provided the new solutions through cippe Shanghai.
Automatic Instruments Zone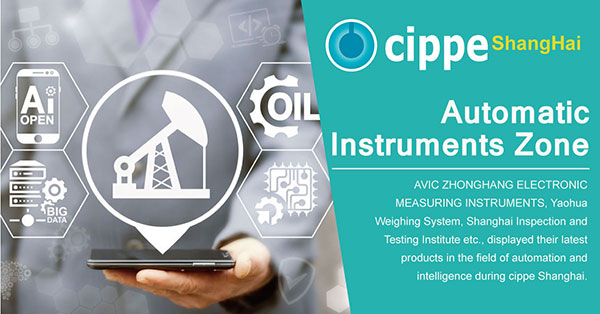 Category: Intelligent oil and gas field; Internet of Things; Industrial robot; DCS PLC IPC; Data analysis of digital oilfield; Intelligent identification, sensing, monitoring system; Industrial Automation Software; Electric Automation; Intelligent Oilfield Remote Diagnosis Technology;Cloud computing;
AVIC ZHONGHANG ELECTRONIC MEASURING INSTRUMENTS, Yaohua Weighing System, Shanghai Inspection and Testing Institute of Instruments and Automation systems, Shanghai Wangyuan Instruments of Measurement, MediaDigital Information, CenHong Automation Engineering, Hengtong Electronics, Heat Transfer Research, Inc. Zhaohui Pressure Apparatus,Hangzhou ECCALC, ANLOG SYSTEMS etc., displayed their latest products in the field of automation and intelligence during cippe Shanghai.
Safety Protection Zone
Category: Fire equipment: trucks,robots, aircraft and motorcycles; Apparatus: flame arrester, fire hydrants, fire extinguishers; Engineering: fire protection facilities, anti-corrosion insulation, mechanical and electrical equipment installation; Fireproofing products: fireproof coatings, sealing and separation materials, smoke control equipment; Personal protection: protective clothing, shoes and fabrics, respirators, eye wash; Chemical safety testing and Certification;
It's necessary to prevent a risk from happening and safety protection should be paid much attention. SHANGHAI FAGNZHAN FIRE TECHNOLOGY, Auto-Control Electronic Information, Wuxi Innovation Technology, Becot Inspection Technology, Jinling Special Paint, Xinda Industrial Group, AEC Lighting Solutions and Yancheng STG Safety Equipment gave the new solutions at cippe Shanghai.
cippe Shanghai is your wise choice if your businesses or interests are involved in those four Zones. We look forward to seeing you in shanghai on 28-30 August.