On March 26-28, 2020, Beijing Jerrywon Energy Equipments Co., Ltd. will participate in the 20th China International Petroleum & Petrochemical Technology and Equipment Exhibition (cippe2020) and warmly welcome you at Booth No: E2130.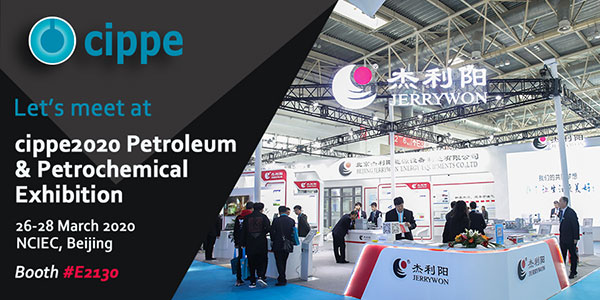 Jerrywon, founded in 1998, is an integrated corporation with main businesses focusing on gas compressor manufacturing and skid fabrication, compressor engineering service, petroleum engineering service, as well as carbon emission reduction and utilization. It is headquartered in Yayuncun, Beijing and has a compressor manufacturing and skid fabrication factory in Miyun Economic Development Zone, which has complete equipment manufacturing, inspection and testing capacities; a compressor engineering service center at Wushenqi, Inner Mongolia, which is equipped with overhaul workshop and commissioned parts warehouse; a petroleum engineering service branch company in Xi'an, which undertakes the snubbing and gas recovery by water drainage service for oil field etc. technical services; meanwhile, it also carries out technical studies on carbon emission reduction, utilization and storage etc. techniques.
As to the compressor business, Jerrywon has nearly 20 years of experiences on skid fabrication for various compressor units, it can provide optimal gas compressor solutions for the oil and gas sector, model selection of customized compressor and supporting skid design according to user requirements, and it can also provide skid-mounted integral type, superior separable(gas engine driven or electric motor driven) and truck-mounted compressor units.
Jerrywon has a compressor engineering service division in Wushenqi, which can provide compressor and engine installation and debugging, maintenance, optimization and modification, equipment relocation, overhaul, technical training, parts supply, station operation and maintenance, equipment rental and other services for oil field clients home and abroad.
As to the petroleum engineering business, Jerrywon mainly provides snubbing, gas recovery by water drainage, oilfield well testing and other engineering services across various oil and gas reservoirs in Sulige gas province, Sichuan and Chongqing gas province, Northeast oil and gas fields, North China oil and gas fields, which are the solid guarantees for the efficient development of Chinese and foreign oil and gas fields.
Carbon emission reduction and utilization business is an emerging service actively developed by Jerrywon under the trend that China actively advances the carbon emission reduction polices. By setting and adhering to the business development direction that is to develop integrated technical services on the industry chain, such as carbon capture, pipeline transmission, oilfield carbon-dioxide flooding and storage (CCS-EOR), Jerrywon has developed and can provide the overall CCS-EOR project solutions and core services such as the provision of packaged equipment for supercharging, dehydration, injection, produced gas processing etc. links on the technology industry chain. At present, Jerrywon has developed the pipeline supercharging and wellhead injection process solutions and packaged equipment supply capabilities with respect to carbon dioxide supercharging and flooding techniques.