Product Applications
Pure water cooling units for high-power frequency converter of high and low voltage
In national production, large power installations are widely used in such fields as oil and gas transmission, vessel drives, mining machinery, large blowers and shield machines. With the mounting power and increasingly elaborate controls of the large power installations, high-power frequency converters have gained more and more popularity. Against this backdrop, this modularized pure water cooling unit, compact in design, is developed as a cooling system f-or high-power frequency converters. It can be installed individually or side by side. Also, air-to-water and water-to-water cooling units can be opted for various applications.
Applications
Medium and high-power frequency inverters, electric locomotive traction converters, gas delivery pressure station, ships, mining machinery plants, medical facilities.

Typical Cases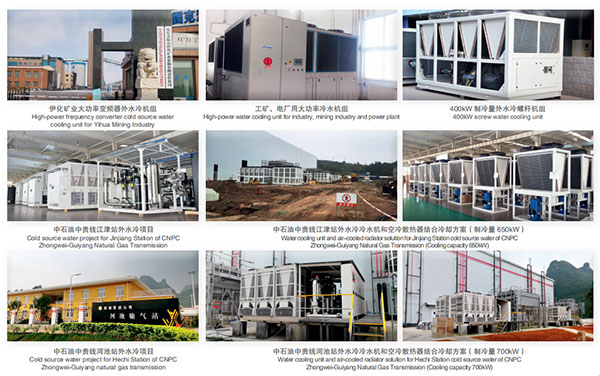 Product Applications
Water cooling units for cold source water
In the fields of petroleum, natural gas and power plants, high-power motors and high-power & high-voltage inverters can generate a large amount of heat. Generally, cooling systems use air coolers and open or closed cooling towers to cool the cold source water, to ensure the safe operation. However, many years of practice shows that such cooling methods have some drawbacks, including large water consumption, difficulty in maintenance, high fault rate and maintenance costs, complicated system and serious pollutions. As China intensifies policy support for energy saving and emission reduction, cold source water tends to use water cooling units featuring air-forced cooling or the combination of water cooling unit and air conditioner.
Applications
Motor, inverter and other high-power devices

Typical Cases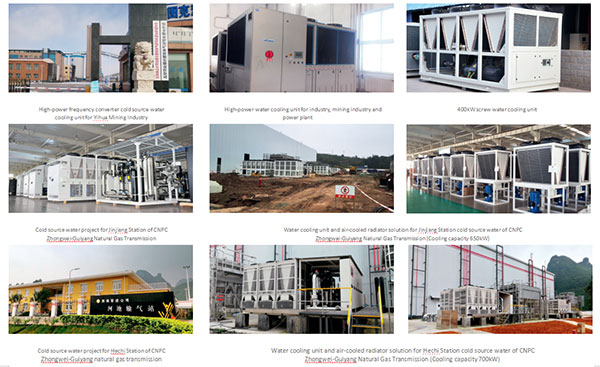 Product Applications
Temperature control solutions for outdoor electrical cabinets and containers
Traditionally, most electrical devices realize heat dissipation via natural ventilation. Recently, demands for such smart devices as substation, control cabinet and terminal have been increasing with the promotion and construction of smart grid. As a result of intelligence, integration and modularity, outdoor electrical cabinets and containers without temperature control unit fail to release heat. Now, air containers and heat exchangers are increasingly used to effectively control the temperature inside cabinets and containers, hence improving the operating reliability.
Applications
Outdoor electrical cabinet, container energy storage power station, mobile base station, transformer cabinet or machine room, outdoor shelter.

Typical Cases
Stainless steel radiators
As for stainless steel heat exchangers, U-shaped core tubes, bends and solders are made from stainless steel, including 304, 304L, 316 and 316L. The heat exchangers are welded by the automatic argon welding machine, which is independently developed by Tongfei for years and can create even, nice-looking and zero-leakage welding joints. The heat exchangers have the advantages of high pressure (0.6-1.6MPa) resistant, high mechanical strength, good water hammer and corrosion resistance, and a maximum burst pressure of 40MPa. There are different materials and surface treatments available for your choices based on operating environment and conditions.
Applications
Air coolers for land (marine) wind power generation converter, land (marine) solar power generation converter, SVC/SVG/STATCOM/FACTS/HVDC transmission system.